Fattet hummos is a creamy, decadent savoury dish that is usually eaten during the weekends or festive occasions. Not because it's hard to make, but in my opinion – because you want to nap after eating it, so you need the day off! It's made from chickpeas, yogurt, tahini, ghee, pita bread, lemon and garlic. Some blogs call it a 'bread pudding', but I think people should get used to the word 'fette', which is a category of food on its own. In Syrian breakfast restaurants you have a wide array of 'fettes' to choose from. You can have eggplant fatte, chicken fatte, meat fatte… and so forth.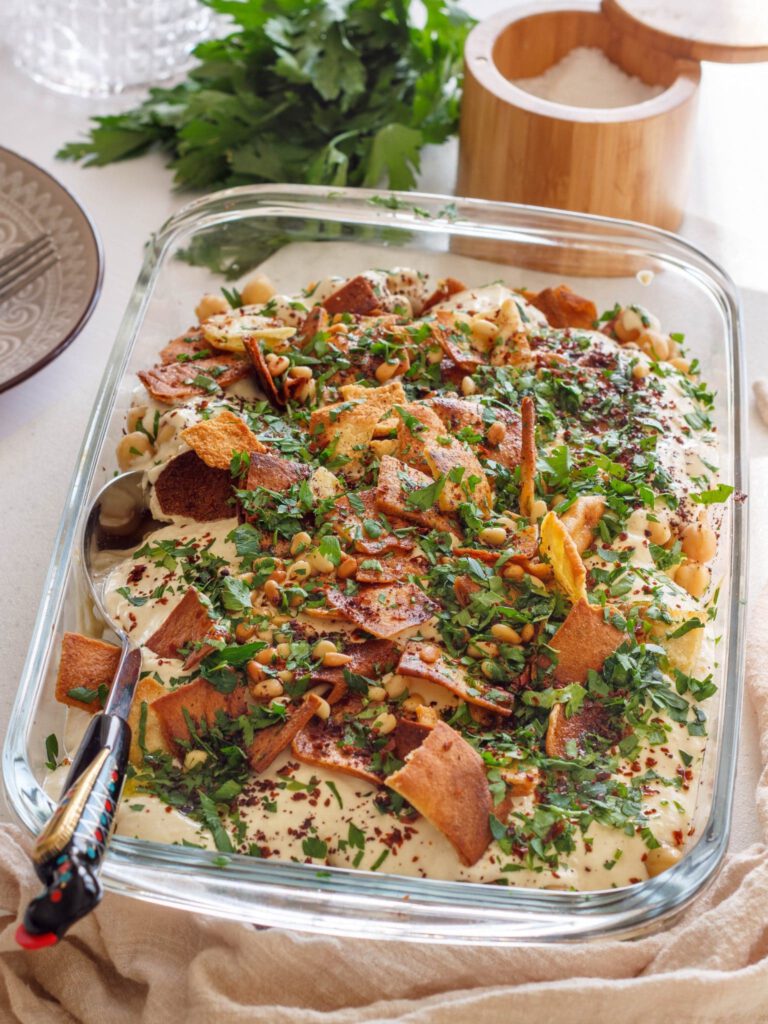 The dish 'fatte' derives from the word 'fatfet', which means to tear into small pieces. In this case, it's the pita bread that we're tearing into pieces – and which makes up the base of this dish. Stories were told that this dish arose from needing to put into the use the leftover pieces of pita, since it's considered a sin to throw away food. So this dish is sort of the 'fried rice' of the arabs. The dish where they throw together the leftover bread and turn it to something magical.
Fattet hummus therefore is a creamy mix of torn toasted pita pieces, topped with soft boiled chickpeas, and a lemony, garlicy, tahini sauce. This is then garnished with more chickpeas, and toasted bread – and for that final Syrian touch – a splash of hot ghee that sizzles all over the told.
Yes, this dish needs to be eaten immediately, and the sizzle 'tisssss' is the sound all of us around the table used to wait for. It meant we can dig in!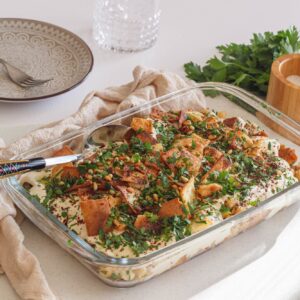 Syrian Fattet Hummos
Fattet Hummos a la Syrian style! This is wonderful hearty chickpea dish that can be eaten anytime, but mostly feasted on during the weekends. It's made from layering toasted pita bread, soft delicious chickpeas and a wonderful tangy tahini sauce. The highlight of the dish is at the end however, where you pour sizzling hot ghee that just soaks and penetrates all the layers underneath.
Equipment
Large Saucepan with Lid or Instant Pot

to cook the chickpeas

Food Processor

Small Saucepan

to heat up the ghee & pine nuts
Ingredients
Chickpeas
600

g

chickpeas

ready cooked, either from can or cooked from dried

4

garlic cloves

whole

1

tsp

cumin

ground

1

bay leaf

1

liter

water

½

tsp

salt
Crispy Bread
200

g

pita bread (or 3 large pitas)

torn or cut into 2cm pieces

2-3

tbsp

olive oil

½

tsp

cumin

ground

¼

tsp

salt
Fatte Sauce
200

g

greek yogurt

full fat

150

g

tahini

60

ml

lemon juice

around 2 lemons

1

garlic clove

crushed

¾

tsp

salt
The Sizzle
¼

cup

ghee

pine nuts

they're expensive, so use as much as you want!
Garnishes
parsley

small, chopped finely

1

tsp

paprika

pomegranate seeds

optional
Notes
Tahini: you need to stir all that stuff in the container REALLY well. Some suggest storing it upside down – will need to try that! Cooking Chickpeas: I highly suggest to cook your own chickpeas, but the process is a recipe in itself. I will make a recipe about it in the future.
Did you make this recipe?
Please let me know how it turned out for you! Leave a comment below and tag @tasteofsham on Instagram.