Crostini are an Italian appetizer consisting of small crispy breads with toppings. Crostini toasts are the little toasts that are used in crostini. Every restaurant I go to in Malta has a different type of crostini on the menu, which served as a great introduction for me. I love making these little crostini toasts, as they are the perfect base for creamy labne, cheeses or any type of savoury spread. So now you can impress your guests and serve them a middle eastern style crostini with this delicious crostini toast recipe!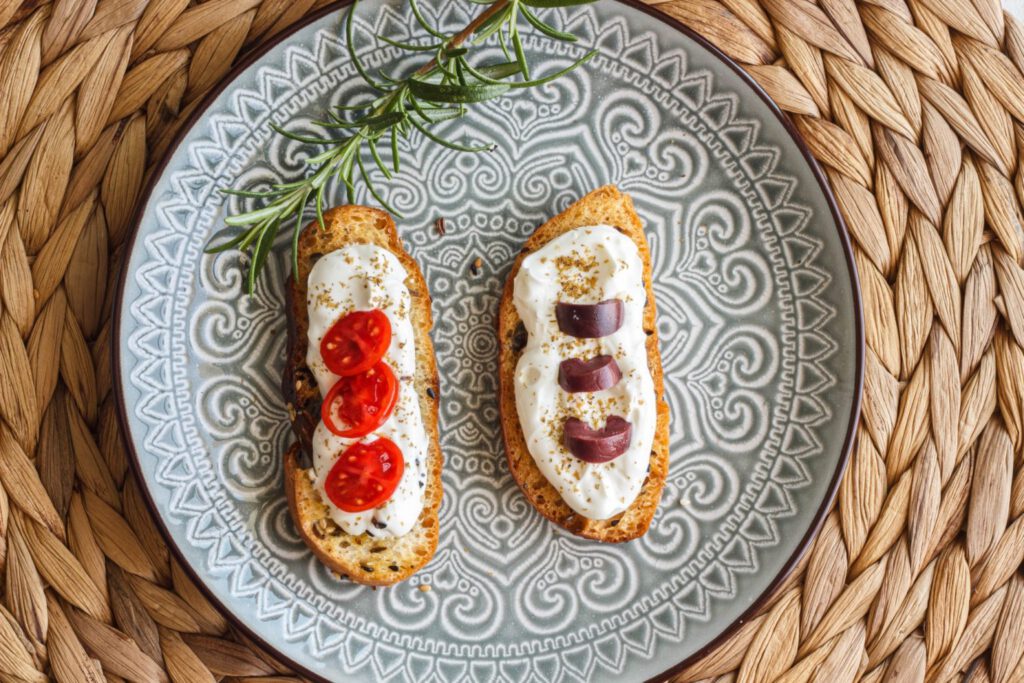 I make a batch of these little toasts every week, and keep them in a big 3L jar, or a ziplock bag. They last quite a while, are great to have on hand for an expected guest, and go great with anything for a small mid-day snack – I've eaten them with tuna, eggs (scrambled, fried & boiled), labne, cheese, olive spread – basically anything!
What bread to use?
The idea for these crostinis came up when I was trying to figure out how to use the huge Maltese ftira breads before they go bad and moldy. I always feel so bad throwing away food, so I try my best to make use of everything in my fridge before it goes bad. In Malta, they are famous for these super delicious bread loafs called ftira. They are round and baked fresh every morning around the country. I would always buy a few extra from this famous bakery in Qormi which is open 24/7 and store some away in the freezer for a rainy day. One day, I had to make room in my freezer (the freezers in Malta are super small btw!) and had to remove and defrost 2 large ftiras… I had to find someway to use them, so this recipe came about!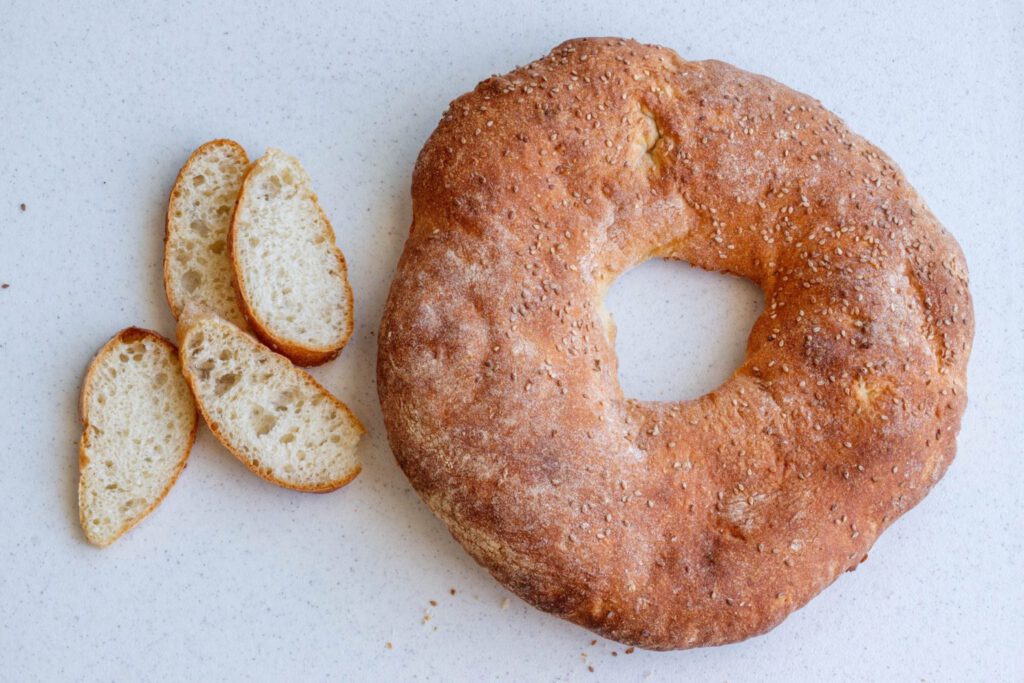 I believe the Maltese ftiras are made from sourdough culture – and you can be certain that this is the most delicious bread I've every had! They usually eat them here with tuna, tomato paste and olives – and you can say it's their local sandwich. However, if you are not from Malta, don't worry – you can use any loaf of bread!I would not suggest white toast bread which I find is not suited for this type of crostini. I would go for baguettes, focaccia, ciabatta – and of course the best bet is sourdough! The better the bread, the more delicious these crostinis turn out.
Slice the bread
You need to get yourself a proper bread knife before you attempt to slice the bread nice and thin. A regular knife might work – but it will make your life a bit more difficult! I suggest to freeze the loaf for 10 minutes so that it's nice and firm – and then slice as thinly as you can.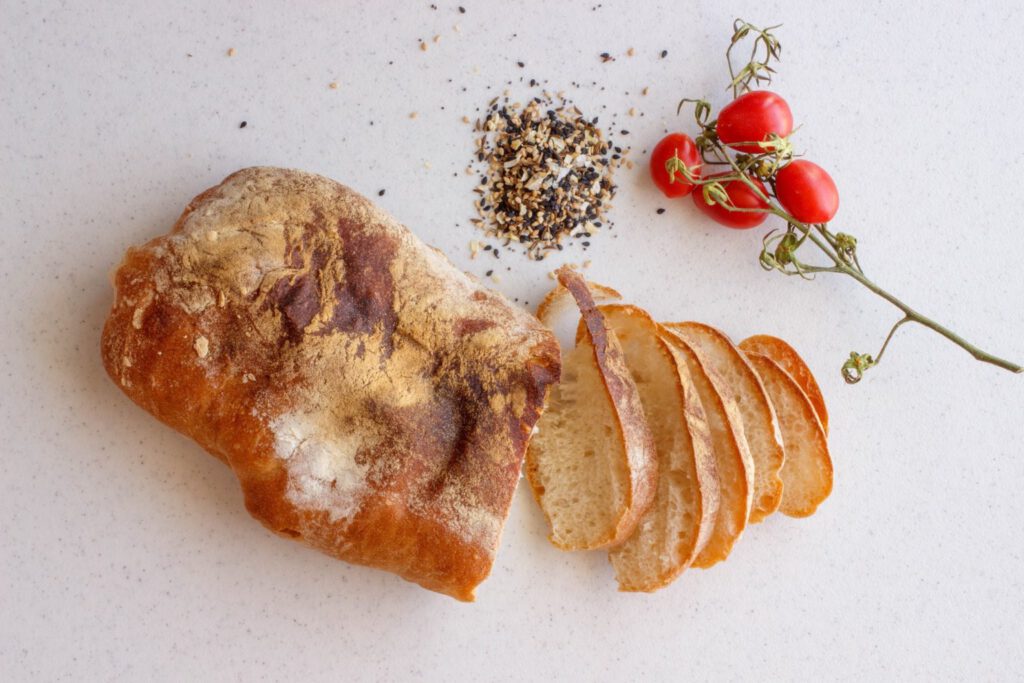 Make the seed mixture
You can find the recipe for the Toasted Seed Mixture here. I've provided step by step instructions to make this delicious mix!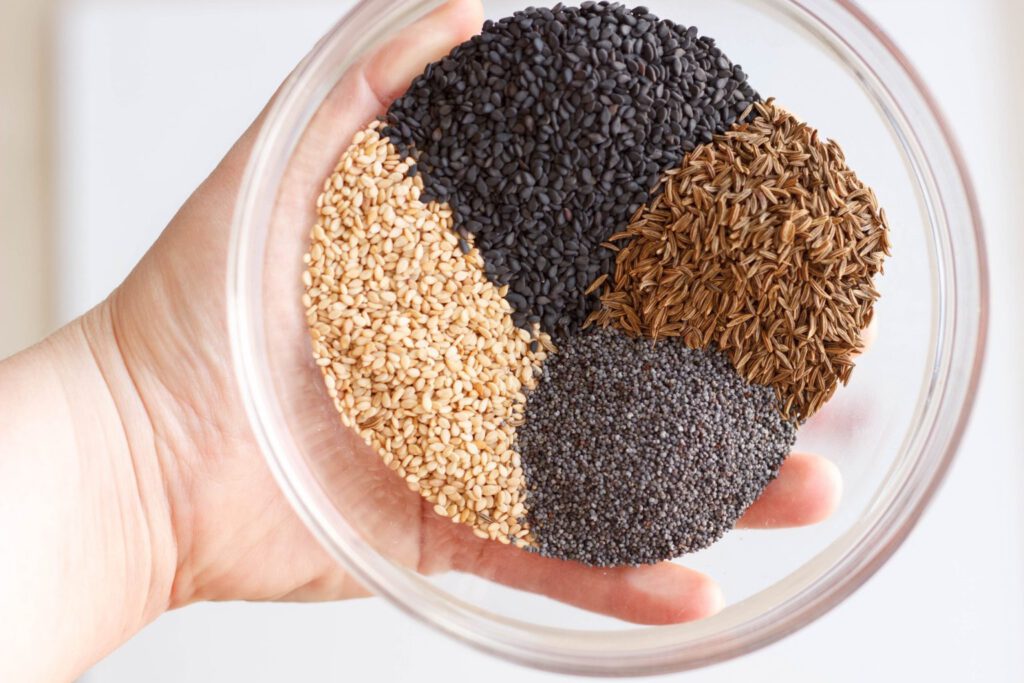 Coat with olive oil & seed mixture
Coat the slices with alot of olive oil and a handful of my special toasted seed mixture. The more olive oil you use, the more crispy and delicious it will turn out. Sometimes when I see olive oil that's about to expire in the supermarket, I buy it just for this purpose. That way you don't feel bad using your good quality olive oil for toasting bread!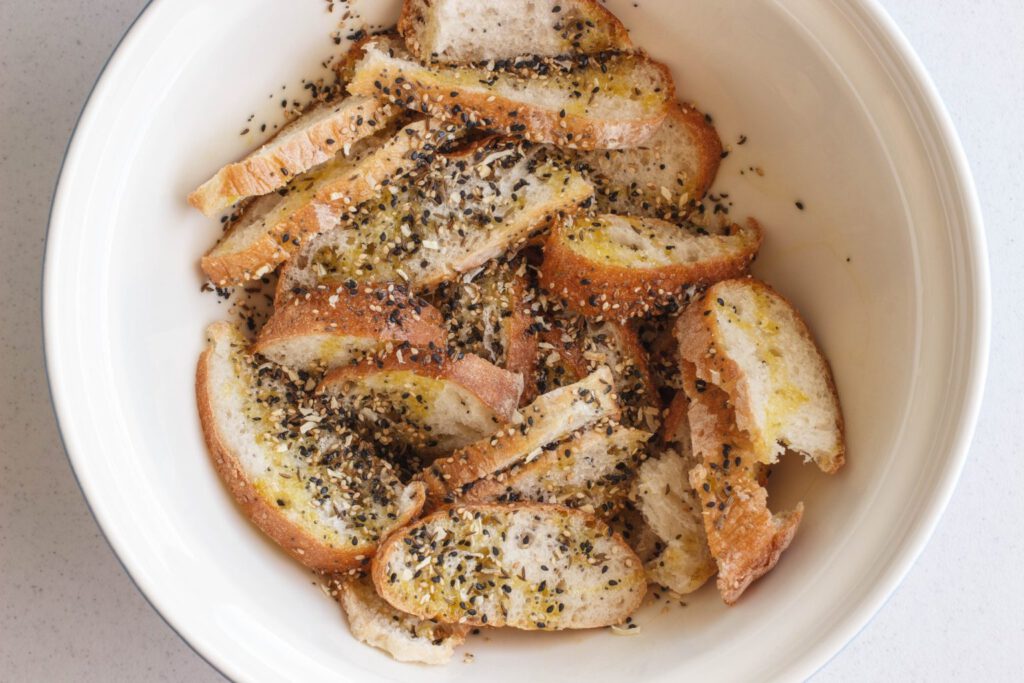 Arrange on sheet pan & toast in the oven
Preheat your oven to around 300°F / 150°C, and line your sheet pan with parchment paper for easy cleanup. Arrange your toasts on the pan as best as you can and put them in the oven in the middle rack. Bake them for around 5-8 minutes before taking them them out and flipping them to bake on the other side.
It's important to keep your eye on these toasts as they're baking. I can't really give you a precise time as it depends on the type of bread you used, how thinly you sliced it and your oven's settings. I usually hang out around the oven, have a coffee in one hand and long tongs in the other – waiting to flip them!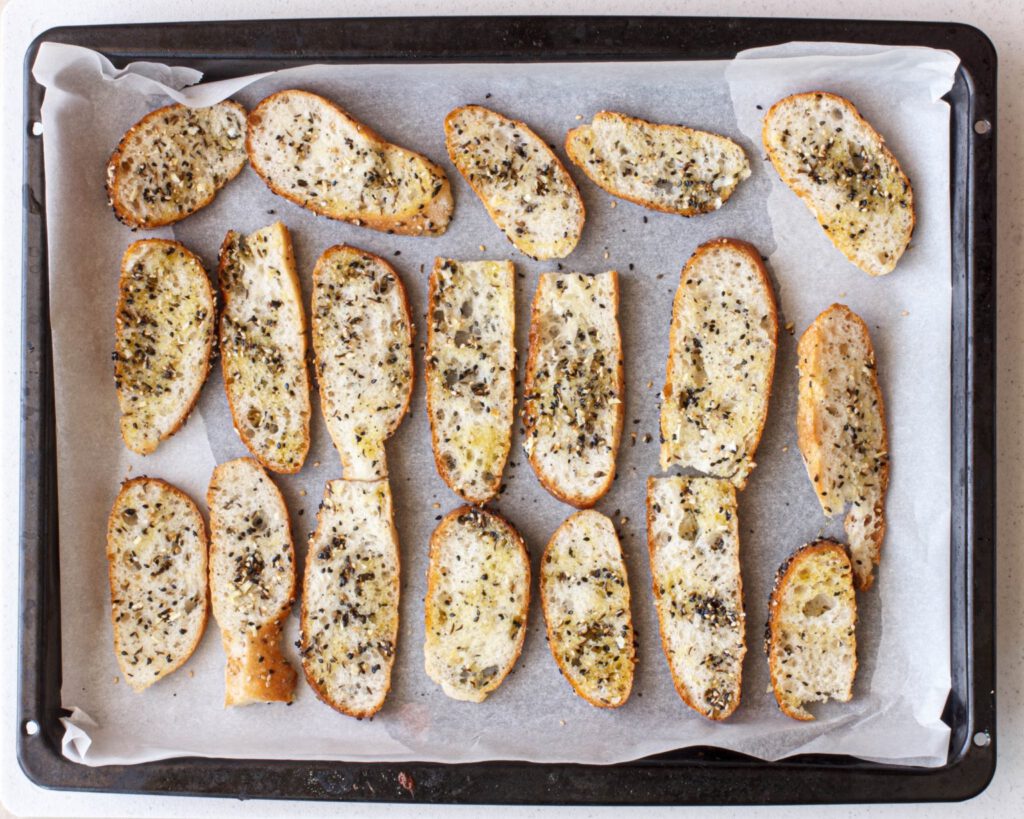 Make sure you cool them fully when you take them out. You don't want them to steam each other in the jar or ziplock bag when you go to store them!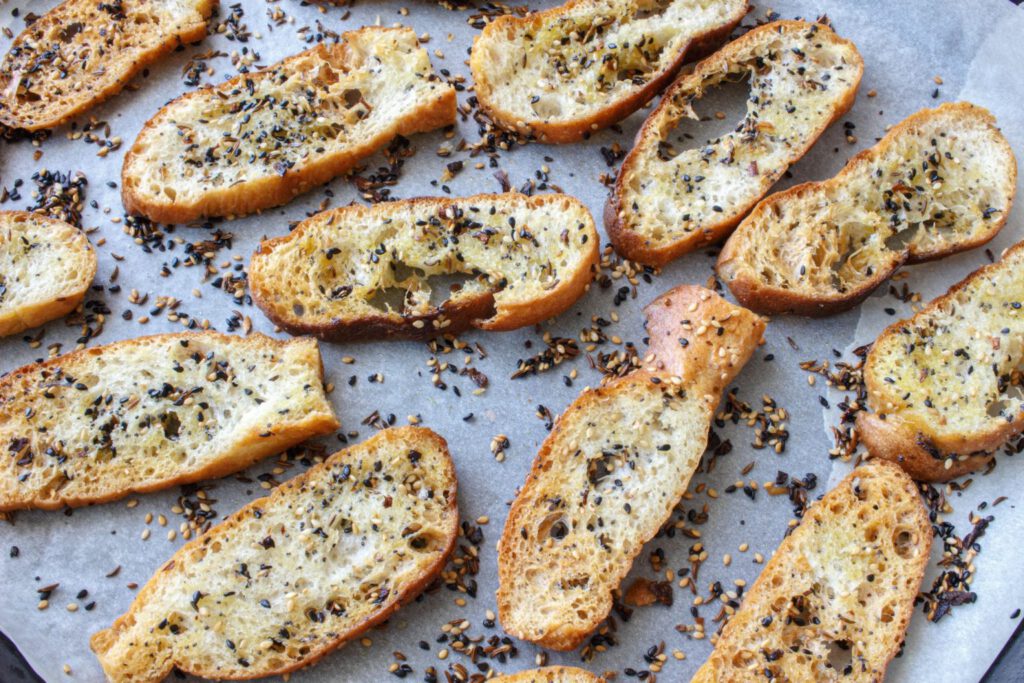 You can use these guys right away after they are cooled. Try my Labne, Tomato & Za'atar Crostini recipe, where we top them with labne and Za'atar Roasted Tomatoes. You can also experiment at this point and add different types of toppings. My second favorite is goat cheese sprinkled with nigella seeds and kalamata olives. Try it out and let me know how you like them!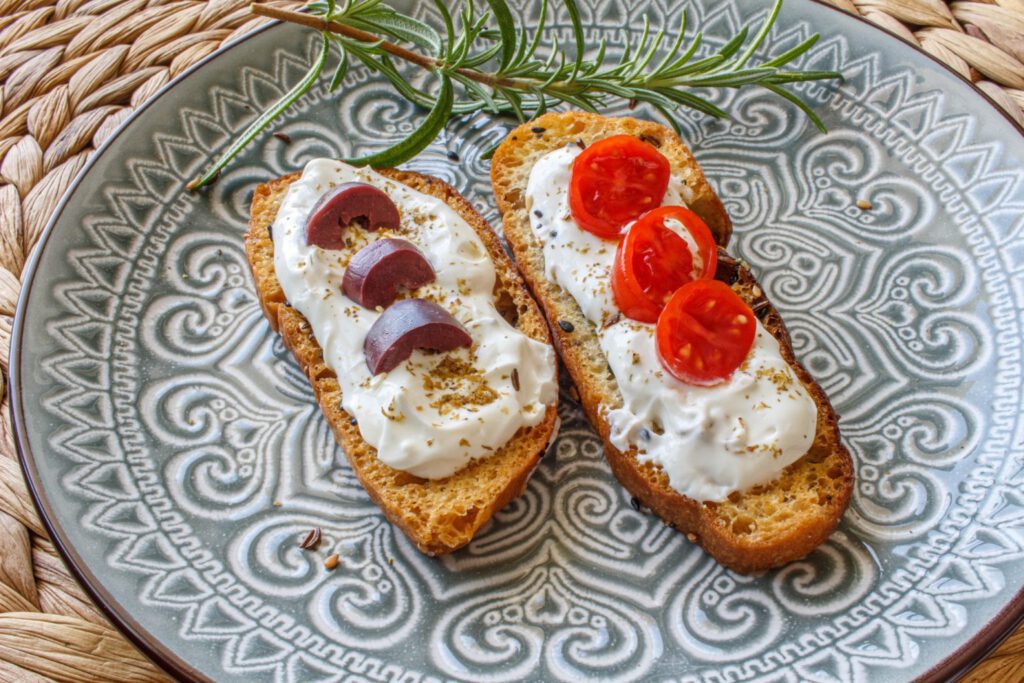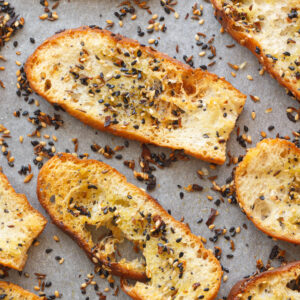 Crostini Toasts with Toasted Seeds
These delicious toasts will have you using up not-so-fresh bread that's lying around – and make a fancy appetizer for your guests! They are the perfect base for creamy labne, cheeses or any type of savoury spread.
Equipment
Oven

Sheet Pan

Oven

Large mixing bowl
Ingredients
1

batch

Toasted Seed Mix

1

loaf

day old bread

ciabatta, sourdough or baguette

1

cup

olive oil

or less!
Instructions
Cut the bread into thin slices. You can freeze the bread for 10 minutes – which will help you to cut it as thin as possible. Use a serrated bread knife!

Mix the sliced pieces of bread with some of the Toasted Seed Mix, and a glub of olive oil. How much olive oil & seed mix is up to you, the more you can get the seeds to stick the better!

Preheat oven to 300°F / 150°C, and line the largest sheet pan you have with parchment paper.

Arrange the seed & olive oil covered bread slices on the pan, fitting as many as you can.

Bake for around 5-8 minutes on each side. You have to keep an eye on them, and turn them so that they toast/brown evenly without burning!

Allow to cool on a cooling rack. Store in an airtight container.
Notes
These toasts stay good for about a week in an airtight container. I store them in large jars or ziplock bags. But usually they are devoured in about 2 days. I suggest you make a big batch while you're at it!
Did you make this recipe?
Please let me know how it turned out for you! Leave a comment below and tag @tasteofsham on Instagram.