If there is a recipe that I would arm you with, to use with every single Arabic stew it would be this one! The foundation of all delicious dishes, I have come to realize – is the quality & the taste of the liquid being used!
Stock is simply essential to most of the stew dishes in Arabic cuisine, and most of the time it's with Lamb or Beef – sometimes chicken! Why is it important? Can't we just use Knorr or Maggi or whatever else stock or bouillon cubes? Well, technically you could, and sometimes they are a great time saver for sure. But if you really want to elevate your food, and get that 'oh la la' taste, that is full of depth and savory yumminess, you need to make your own stock. Period.
I have memories of smelling stock cooking through-out my childhood. I would always walk into my mother's kitchen in Damascus at around 1PM (back from school time!) and smell the aroma of the meat pressure cooking on the stove. I would wait until it was done so I could 'fass's' (pick-apart) the meat from the bones, and sneak in some nibbles of the freshly cooked meat! Sometimes my mom would cook those bones with marrow inside, and I would love to just sit and poke them out. DELICIOUS!
The following is a recipe that I use all the time to make stock and meat for most of the Arabic dishes that call for it. I will be referring back to this recipe alot in other recipes. Using beef or lamb is mostly your choice, depending on what you have on hand, butcher availability or what you personally like. Just because a recipe calls for Lamb, doesn't mean you have to use it! Use the meat that you like. You can also tweak the spice mixture to your liking, but try this one first and then do your thing.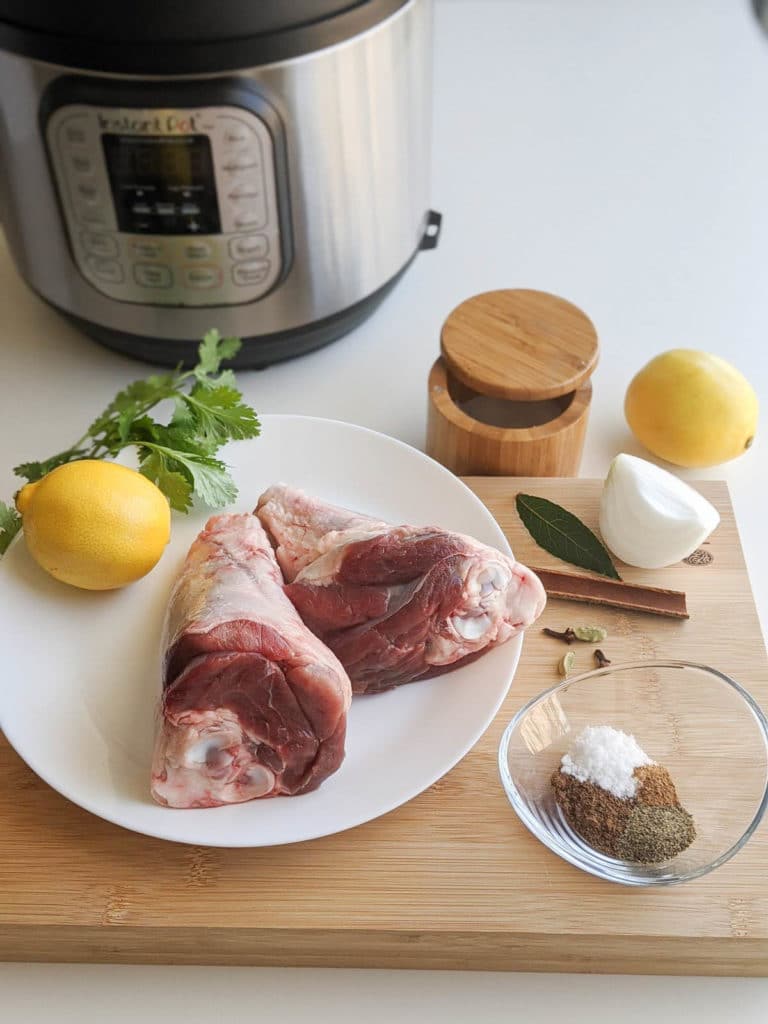 Tips on making meat stock
If using Lamb, try to use meat from the leg or shoulder, or just use shanks!
If using shank, keep it whole! Keep the bone in too, you might need to remove it later on, but that's another story. More work for you, but still delicious!
If you are using beef, ask your butcher for stew meat so it's not too expensive. You're going to be cooking this meat down, so no need for expensive cuts. No one will probably know the difference!
You'll be tempted to cut these guys down to small pieces, but trust me – don't do that! It will take ages to sear! Keep them around 3-4cm cube sized. If cooked properly they will be fall apart tender once the stock is done.
You can scale this recipe up and down if you wish!
This is great for freezing. Sometimes I scale it 2x or 3x and then portion it into ziplock bags or Tupperware and freeze. The next time you want to make a dish like Mulukhiyah fast, half the work is already done!
Make stock on the Stove Top
If you don't own a pressure cooker, you can definitely do this on the stove. You can go through the same recipe, but leave it simmering on medium-low heat covered for 40-60 minutes for the lamb and 60-90 minutes for the beef, or until you poke your fork into the meat and it's tender. Keep and eye and check on it every now and then to avoid overcooking it. Skim the fat whenever you get the chance. Easy peasy – done!
Make Stock in a Traditional Pressure Cooker
Those things terrify me… so use at your own risk! On a positive note, I miss hearing it hiss and scream in the kitchen as a kid. It meant that dinner was almost ready!
I usually start by preparing my spice rub & and my stock ingredients into two small bowls. I also take out the meat from the fridge and prep it, making sure it's cubed into nice workable pieces. I would aim for about 3-4 cm cubes – anything bigger then that, it will take longer to sear! If you're using shanks like I did in the Mulukhiyah recipe, just take them out – no need to cut them up!
Also, make sure the meat is not super cold – maybe have it sitting out at room temperature for about 5 minutes. This way it won't lower the temperature of your pot as much, when you start to sear it.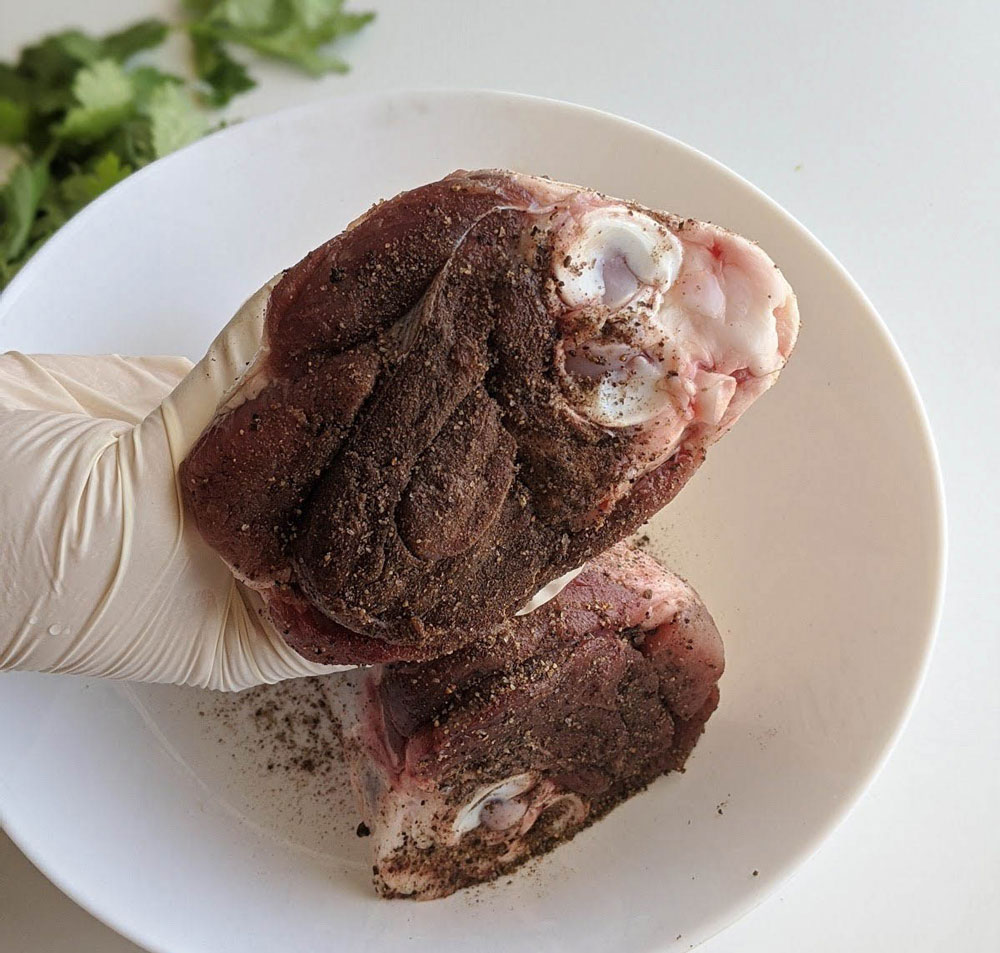 When I first started to cook, I was one of those anxious cooks that needed to get everything done quickly-quickly. One of those quickly-quickly things I used to do was try and sear all my meat at the same time. What ended up happening was that I started to steam my meat instead of searing it – due to overcrowding of the pan and the decrease of temperature.
You'd be surprised at how many people I still see to this day stewing their chicken or meat in a pan – boiling it off in the foam…! It's still edible, but with a little bit of patience, instead you can get that delicious crust on your meat called the Maillard reaction, rather than just a mediocre cooked piece of meat.
So how should you sear your meat here? Pat dry your meat if you can with a paper towel, rub the spice rub all over the meat well using your hands. Wear gloves or go au-natural – your choice! Then heat your vessel (in this case it's the instant pot chamber) and add your fat in it.
Drop the pieces of meat one by one, and make sure that sizzle is still there. If the pan loses heat as you drop the pieces, it will start to steam and you'll end up having soup. Better to be slow and steady, then fast and soupy!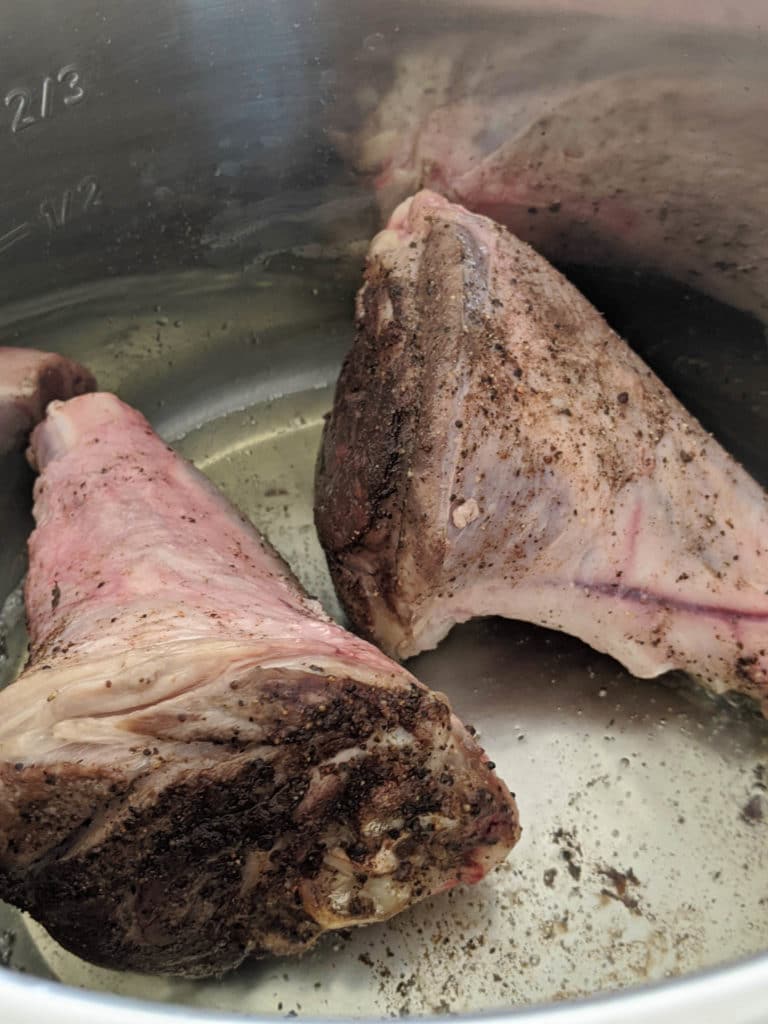 Set it & Forget about it!
After you add in the aromatics and water, all you need to do it is set it and forget it! Soon you'll have delicious stock that you can use for many dishes, or even freeze for later. Make sure you strain out all the spices and aromatics well!