My earliest memory of this is trying it in a traditional old Syrian house restaurant in Souk el Hamadiyeh. I was around 16 years old and never heard of it before. My family never used to make it at all! I was obsessed! So delicious – especially since I am an eggplant fanatic.
Be warned that this dish is not for the faint of heart, or those watching their waistlines. It's a full on, let's eat it and nap for the rest of the afternoon kind of dish. Typical Syrian style!
In terms of prep, it's relatively easy – just a bit time consuming if you don't have the stuff ready. I would suggest you plan to make this a day before so you can prep some steps before hand!
Things you can do ahead of time to save time:
You can toast the pita bread the day before, and after cooling put it in a ziplock or tupperware.
You can soak a piece of tamarind in water overnight.
You could technically make all the layers the day before, except the yogurt garlic sauce, since garlic tends to intensify when refrigerated overnight.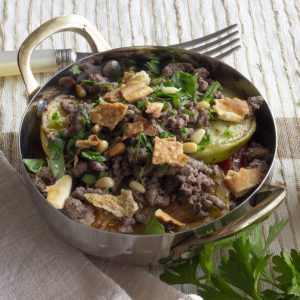 Syrian Fattet Makdous
This recipe is a great hearty brunch dish, or even a delicious dinner. Typically Syrian, It marries all the flavors of the Bilad el Sham (Middle East) in one dish. It consist of several layers including fried eggplant, tomato sauce, ground meat, toasted pita bread and a savory garlic yogurt sauce.
Equipment
Large mixing bowl

Baking Tray lined with foil or parchment

Paper towels to soak up oil

Frying pot

Large sauté pan with lid
Ingredients
Toasted Pita Bread
4

small pita bread

cut into small squares

3

tbsp

olive oil
Yogurt Mix
800

g

Greek Yogurt

2

garlic cloves

minced

1

green chilli

finely minced

1

tsp

salt

or to taste
Tomato Tamarind Sauce
2

yellow onions

half moon slices

2

tbsp

sunflower oil

1

kg

tomato passata

5

tbsp

tamarind liquid

1

tsp

salt
Fried Eggplants
3

eggplants

cut into 3cm thick ring chunks

1

cup

sunflower oil
Minced Meat
300

grams

ground lamb or beef

or a mix of both

1

tsp

salt

1

tsp

black pepper

1

tsp

cinnamon
Toppings
1

parsley, chopped

small bunch

pinenuts, toasted in ghee

1

handful

crispy pita bread
Instructions
Salt the Eggplants
This is not super necessary, but people claim that salting the eggplants and leaving them for a bit will allow the eggplant to release water and reduce its bitterness. You can do it if you want, or not. It needs around 30 minutes to 1 hour, so if you are going to do it, start now. Also, you're going to have to tap them dry before frying them later on! So make sure you have paper towels on hand.
Toast the Pita Bread
Preheat the oven to 210ºC / 425ºF. It doesn't need to be precise, we're just going to the toast the bread here.

Combine the cut up pita in a large bowl, and add the olive oil. Toss together then spread onto a baking tray (lined with parchment or foil).

Bake in the oven until it's golden and crispy. Keep an eye on it, because they brown quickly.

Remove, leave to cool and store in a ziplock or tupperware.

You can also make extra here if you plan on making fattoush later on! These crispy breads last for 1 week in a sealed environment.
Make the Yogurt Mix
Add all the yogurt mix ingredients together in a bowl and mix well. Cover and refrigerate until needed.
Make the Tomato Tamarind Sauce
Use a large sauté pan with a lid. It has to be big enough to hold 1kg of ingredients!

In the large sauté pan, sauté the onion rings in the sunflower oil, for around 15 minutes or until they start to become golden.

Add the the rest of the ingredients (passata, tamarind and salt). Stir and wait till it comes to boil. Then turn the heat down to medium low, cover and stew for 30 minutes.
Fry the Eggplants
In another heavy bottomed pot (or your go-to deep frying pot or pan), add the sunflower oil and begin to fry the eggplant rings a few at a time.

Fry on both sides until golden. Eggplants drink up alot of oil, so make sure to put them on paper towns after that to soak up the oil.
Sauté the Meat
In a frying pan, heat up the olive oil, and sauté the minced meat along with the other ingredients (black pepper, salt, cinnamon).

This should take around 10 minutes until all the meat is cooked through.
Notes
Try and make the layers ahead of time so you're not completely overwhelemed by the steps in this dish! It comes together really easily at the end, and everyone will thank you for it!
Did you make this recipe?
Please let me know how it turned out for you! Leave a comment below and tag @tasteofsham on Instagram.