I always have a batch of this seed mix in my spice cabinet. It's great for those last minute guests who love to pop by, which in that case you can whip up some Crostini Toasts with simple toppings. 
Other than that, since we've started a keto diet, it's a flavour booster and saviour for all sorts of baked keto goods. 
Sprinkle it on your salad
Sprinkle it on your pizza crusts, calzones or any other savory baked goods
Sprinkle on savory puff pastry
Sprinkle on bagels or any type of bread
Give it as a gift on special occasions! Easy, thoughtful and delicious!
Toasted Seed Mixture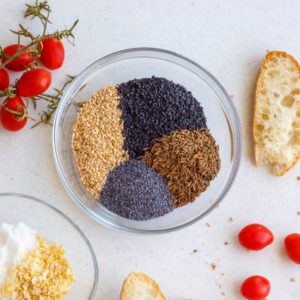 This is a delicious secret seed recipe you can use to sprinkle on top of your labne, cheese or to make crispy little crostini toasts. It's delicious for everyday use, and can be used to wow your guests at your dinner party!
Ingredients
3

tbsp

sesame seeds

3

tbsp

black sesame seeds

1

tbsp

caraway seeds

1

tbsp

poppy seeds

2

tbsp

onion flakes

1

tbsp

sea salt
Instructions
Toast the Seeds
Mix it Up
Add the onion flakes and salt to the mixture, while it's still hot. Mix well.

Allow to cool before storing in an airtight container.
Notes
This mixture stays good for around a month in an air-tight jar, in your cabinet.